Thursday, January 2nd, 2020
---
10:18 pm - Collected Fanfiction Post
Wednesday, October 17th, 2018
---
11:17 am - Book Fair at 70: A report
So, the 70th Frankfurt Book Fair. (Post-WWII that is; the actual Frankfurt Book Fair dates back to the 1500s, and there' s a hilarious in hindsight account of some printers going to celebrate in the evening to Sachsenhausen (part of Frankfurt) WHICH IS STILL HAPPENING).

(One of these days I'll write a sketch or a story about those early book fairs. Dürer's wife Agnes is the secret star, outselling everyone with her prints but having to battle with illegal Italian copyright infringement, mapmaker Gerhard Mercator has to explain why his maps come in Catholic and Protestant editions (the Catholic ones depict Scotland and Ireland far more prominently than that English bit in between), Luther has finally been wood into doing a reading and signing, err, preaching appearance but then is pissed off when learning that so will Erasmus of Rotterdam, and the British deligation leaves in a huff when finding out Henry VIII. isn't even considered for any awards because everyone takes it for granted Thomas More was his ghost writer.)

( Meanwhile, what happened in 2018 in Frankfurt was this: )

This entry was originally posted at https://selenak.dreamwidth.org/1311054.html. Comment there or here, as you wish.

current mood:
geeky
Monday, October 15th, 2018
---
3:33 pm - Doctor Who 11.02
The Book Fair is over (as of yesterday evening) and I shall write a report once I can, but today I had to attend another conference, and thus, briefly, instead my impressions of the latest Doctor Who episode.

( Read more... )

This entry was originally posted at https://selenak.dreamwidth.org/1310822.html. Comment there or here, as you wish.

current mood:
contemplative
Friday, October 12th, 2018
---
9:24 pm - Better Call Saul 4.10
It's Frankfurt Book Fair time, and that means I'm on my feet from morning till late at night, but I did finally manage to catch the Better Call Saul finale.

( Read more... )

This entry was originally posted at https://selenak.dreamwidth.org/1310663.html. Comment there or here, as you wish.

current mood:
impressed
Monday, October 8th, 2018
---
5:39 pm - Yuletide Letter
Dear Yuletide Writer,

thank you so much for creating a story for me! I hope you'll enjoy the experience and appreciate the work you're doing - writing a story in a tiny fandom we share is absolutely lovely, and I'm guaranteed to be pleased by your gift, so don't fret. My prompts are just that, prompts, not absolutes; if you have an idea that doesn't fit with any of them, but features the characters I asked for, I'll love it with added joyful surprise.

Some general do's and don'ts:

Canon: generally I prefer stories to adher to it. Now some AUs are fascinating and great ways to examine a character further, and I love the "Five things" format both as a writer and reader, so if you're struck by an idea which necessitates a departure from canon, don't let that stop you. It's just that if the story needs a long note explaining all that is different in this AU as an introduction, it's probably too far from canon for me. After all, I feel in love with this particular fictional universe and the characters in it for a reason.

Sex: whatever works best for you when writing the story. None at all, i.e. gen, slash, het, poly, I'm good either way as a reader. If there are any pairings I absolutely don't want to read about, I'll mention them in the prompts. No A/B/O in any case, though.

Character bashing: is a strict do not want. Though let me clarify a bit, because some of the characters in the fandoms I've requested hate other characters' guts, and it would be downright ooc for them to suddenly feel fair-minded and friendly towards them. So: in such a case, if, say, the pov character is canonically full of ire towards X, I wouldn't call this character making negative statements about X either in dialogue or in thoughts bashing. Otoh, if all the characters in the story follow suit and declare how much X sucks, while X never gets a positive word out, I'd call that bashing. If you yourself loathe a character - and it happens, to me, too - who'd usually be present in the story and feel uncomfortable writing them in a non-negative manner, I'd rather you declare that character absent from canon for whatever reason works best.

Character death: if it serves the story, go for it. It wouldn't be a problem for me.

( Star Trek: Discovery )
( Starbridge Series )

( Class )

( The Defenders )
( Roma Sub Rosa Series )
( The Last Kingdom )

This entry was originally posted at https://selenak.dreamwidth.org/1310440.html. Comment there or here, as you wish.

current mood:
hopeful
9:05 am - Doctor Who 11.01.
Doctoram Habemus! And that's all the cod Latin I'll inflict on you today. Overall: enjoyed this episode a lot, both the debut and the introduction of new supporting cast aspect, though one late plotpoint made me sigh, oh, Chibnall, did you have to? But other than that, both thumbs up.

( Read more... )

This entry was originally posted at https://selenak.dreamwidth.org/1310030.html. Comment there or here, as you wish.

current mood:
satisfied
Thursday, October 4th, 2018
---
8:15 pm - Historical links
History:

The Lion in Winter:

A Game for Scholars: terrific tale featuring my favourite medieval dysfunctional couple in their Albee-esque glory.

And in non-fiction news:

How Indana Jones invented a quote from Charlemagne: very entertaining "he never said that" rant. I empathize, though I have to say, this bit:

Charlemagne was quite a conqueror. He ruled France (more or less) from 768 to 814, and in that period he waged war on a nearly annual basis, conquering what is today western Germany, northeastern Spain, and northern Italy and subjugating much of the rest of central Europe

...cracked me up, because yours truly learned the France/Germany bit in school exactly the other way around, i.e. "he ruled Germany (moreor less) and conquered France". Good old Karolus Magnus, or Karl der Große, definitely was taken as basically the ancestor/founder of both the German and the French kingdoms that came after him, and I dimly recall the treaty between his sons after they duked it out after his death is suppposedly one of the earliest, if not the earliest, surviving document featuring both old French and old German, in addition to Latin. Mind you, Charlemagne/Karl counting as a Frenchman in France and a German in Germany wasn't news to me; the post WWII fashion became to declare him "the father of Europe". But it was an odd reminder of how even post-nationalistic historians are influenced by country-centric povs.

This entry was originally posted at https://selenak.dreamwidth.org/1309777.html. Comment there or here, as you wish.

current mood:
calm
Wednesday, October 3rd, 2018
---
8:13 pm - Briefly
A PS to the Better Call Saul review: two interviews with Gennifer Hutchinson, who wrote the episode, one here</i> and another one here.

Also, I never met the man, but I did read his memoirs, as he was the chief recording engineer at several of the Beatles' most important albums, so it was definitely with a sense of sadness I learned today that Geoff Emerick has died.

This entry was originally posted at https://selenak.dreamwidth.org/1309622.html. Comment there or here, as you wish.

current mood:
sad
Tuesday, October 2nd, 2018
---
8:04 pm - Better Call Saul 4.09.
9:25 am - Aha!
Yuletide Fandom Tags are there! As always, part of the fun is to discover what other people have nominated and I hadn't thought of asking for, but now want. :) So, preliminary results:



Can offer:

Schiller, Don Carlos

Class

The Americans

Ring of the Nibelung

Star Trek: Discovery

Julio-Claudian Dynasty RPF

The Last Kingdom


May do as a treat, depending on time, but won't offer:

Order of the Air Series

The Woman in White

Wuthering Heights

Borgen




May request:

Star Trek: Discovery

Class

Roma Sub Rosa Series

Starbridge Series

The Defenders

The Last Kingdom



Hope someone else does it, as would really enjoy reading but won't either write or request:

Flowers in the Attic
Gone with the Wind
James Asher Series and Benjamin January Series, both by Barbara Hambly
Count of Monte Christo (the book! Not any other version)
Place of Greater Safety
Robert Carey Mysteries
Watership Down (Always!)
Winnetou
Call me by your name
The Godfather
Dynasty (either version)
Copenhagen
American Gods
Better Call Saul
Call the Midwife
Dickensian
The Exorcist
The Hour
Jessica Jones
Lost in Space
The Marvelous Ms Maisel
Rev.
Sense8
A Very English Scandal

This entry was originally posted at https://selenak.dreamwidth.org/1309134.html. Comment there or here, as you wish.

current mood:
bouncy
Monday, October 1st, 2018
---
12:34 pm - King Lear (BBC/Amazon Prime Production) (Film Review)
Aka the one starring Anthony Hopkins, Emma Thompson, Tobias Menzies, Jim Broadbent, Emily Watson, Andrew Scott et al, set in a contemporary AU Britain where a momentous political decision about the country's future is made based on a temper tantrum, and then it turns out no one is equipped to handle the consequences as the country goes to hell on an ever faster pace. Very AU, that one.

( Read more... )

This entry was originally posted at https://selenak.dreamwidth.org/1308851.html. Comment there or here, as you wish.

current mood:
impressed
Saturday, September 29th, 2018
---
4:20 pm - Birds' eyes, appleyards and Alps
This last week I was in Southern Tyrolia with the APs, and returned home yesterday, exhausted, but happy. On a personal level, that is. Politics both on a national and international level still make me furious, but it helps sometimes to be able to look around and admire the beauty. I mean, how could you not?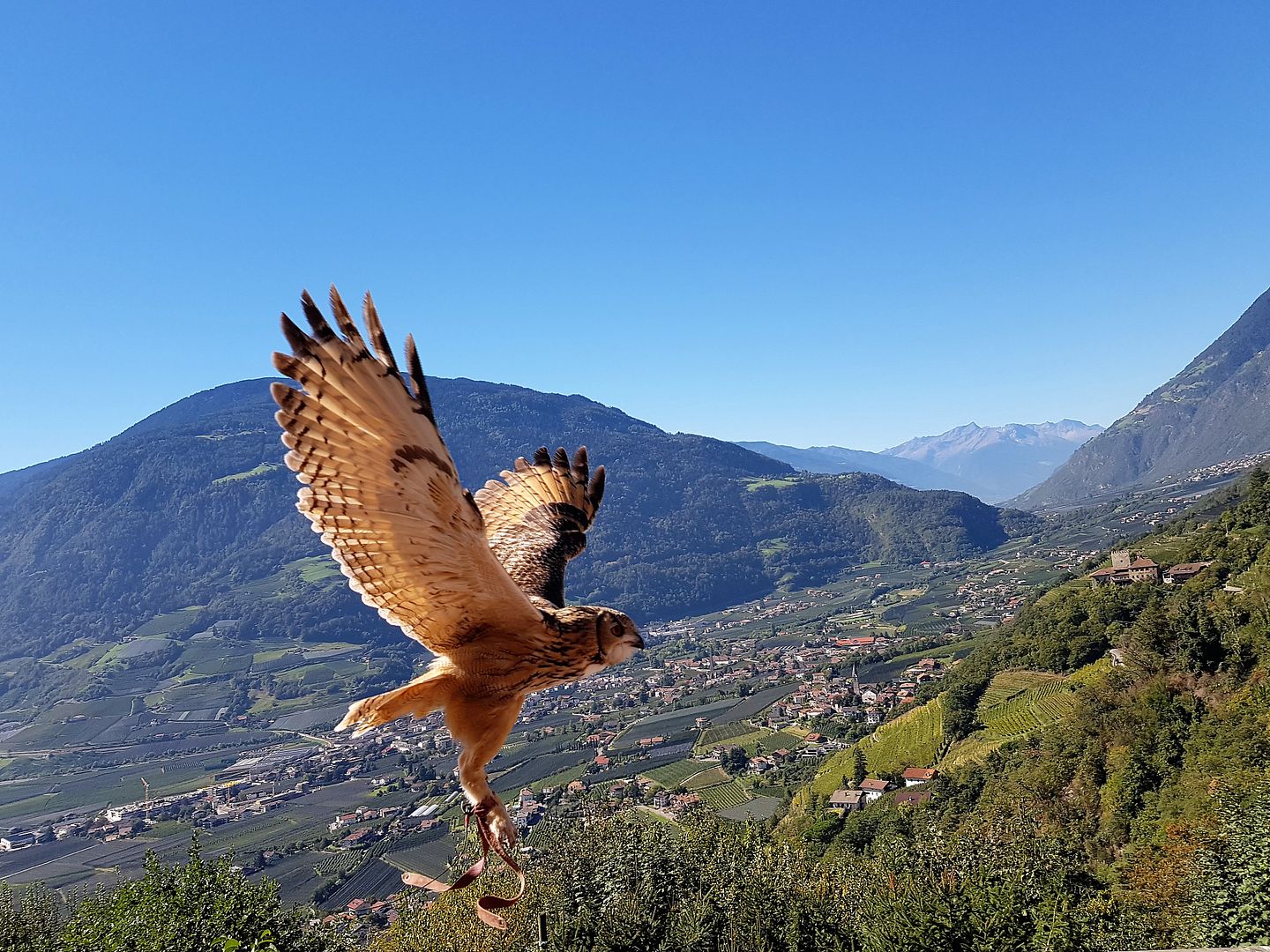 ( More to admire beneath the cut )

This entry was originally posted at https://selenak.dreamwidth.org/1308435.html. Comment there or here, as you wish.

current mood:
exhausted
Wednesday, September 26th, 2018
---
8:49 pm - Better Call Saul 4.08
In which we find out what Kim's plan was, and I'm back to worrying about her, while also having an unholy (new) suspicion about where the Mike tale is going.

( Read more... )

This entry was originally posted at https://selenak.dreamwidth.org/1308280.html. Comment there or here, as you wish.

current mood:
worried
Saturday, September 22nd, 2018
---
3:26 pm - Robert Galbraith (J.K. Rowling): Lethal White (Book Review)
In The SIlkworm, JKR went baroque and Jacobean with the murder of the case, and accordingly all chapters were headed by a John Webster (and friends) quote. In Career of Evil, where the backstory of Strike's dead mother, the rock music groupie, is pretty important, the quotes came from Blue Öyster Cult lyrics. This time around, it's Ibsen's turn, and if you know your Scandinavian playwrights, you know, with a sinking heart, what this signifies - bad marriages (or bad love affairs) are a big theme of the tale. On the bright side, I hasten to add, the Strike/Robin partnership is in fine shape, both professionally and emotionally, after fallout from the last volume at the start of the novel. And since said partnership is the core of what makes this series of novels, that is the most important thing.

But to get my bad marriages/affairs nitpicks out first: ( "which )

All of which, btw, doesn't mean that various of the depictions of bad relationships didn't ring true to me. "You can bloody hate someone and still wish they gave a shit about you, and hate yourself for wishing it" one of the suspects tells Robin, which is true for a great many of the novel's cast, and struck me as a key quote. As for the case(s) of the novel which our investigative team has to crack, one starts when an off-his-meds homeless man shows up at their office and tells Strike about witnessing a murder as a child (which, because he's clearly mentally ill, means he may or may not have imagined it), the other with a Tory politician, Jasper Chiswell, being blackmailed and in turn wanting to get dirt on his opponent. This provides the opportunity for Robin to go undercover not once but twice in very different roles, which mostly is great fun to read about, and for the author to do what she did in "Cuckoo's Calling" for the fashion world and in "The Silkworm" for the literary industry, to go satirical about a certain milieu: politics, privileged Tory families and the radical left. The first two work out well (for example, Robin's acid observation on what the various members of the (Tory) Chiswell clan think of as "poor"), but with the last, I feel it shows that JKR has been spending the last two years or so involved in an inner Labour dispute between Corbynists and, for lack of a better term, Social Democrats in the Labour party, and not on the pro-Corbyn side. Because if one of the supporting villains is a beardy charismatic guy having a cult like grip on his followers while he's spouting pseudo Marxist clichés which include the occasional antisemitic remark, with an anti-Zionist poster prominently displayed in the locations where he holds a speech, it's probably not out of this world to suspect someone might be fictionally venting. This unfortunately means the satire is less than successful, because in addition to everything else, the character in question is also a hypocrite, exploiting other people. Letting him have the courage of his convictions would have made for a far more interesting literary creation. (In this very novel, she does better with the actual murderer, who doesn't have a red arrow saying "dislike this person" pointing at them all the time, and with some of the other supporting cast, including Chiswell's daughter Izzy, who is clueless about privilege in the most breathtaking way without being malicious, or Chiswell's political enemy Della who needs to come across as ambigous since what her motives are and how much she knows is one of the mysteries facing Strike and Robin.

This being said, the maybe Corbyn avatar is just a minor villain and doesn't show up that often, especially in the second half of the novel. And, again, there is great teamwork. Given that the second novel features a major argument between our heroes and the third much plot interference, I can't tell how how I relieved I was that in this one, after the early holding hack, they get along fine, and as in the first one you can see them bringing out each other's strengths while having a great rapport, and share many a scene. Most importantly (to me), in the majority of said scenes, they're comfortable with each other. In a novel which inflicts private drama on either otherwise, this is a much needed relief.

In conclusion: won't be my favourite of the lot but I'll probably reread it in some years, skipping over most of the stuff with SPOILER. And celebrate that SPOILER won't plague us in future novels anymore.

This entry was originally posted at https://selenak.dreamwidth.org/1308062.html. Comment there or here, as you wish.

current mood:
contemplative
Tuesday, September 18th, 2018
---
10:39 am - Better Call Saul 4.07
Sunday, September 16th, 2018
---
5:12 pm - Back to fannishness
Yuletide nominations are open. I went for Star Trek: Discovery, The Americans (with the canon finished now, a whole new area of fictional possibilities arises), and Susan Howatch's Starbridge series, about which more here. In that case, I deliberately nominated the female characters because much as I like those books, they're relentlessly male centric, even the one female pov entry, and I want someone fleshing out the women for me.

Also, four or so years belatedly, I've fallen for The Lizzie Bennet Diaries, i.e. the adaption of Pride and Prejudice consisting of video blogs made mainly, but not exclusively, by our heroine. It's as witty and clever an update as everyone back in the day swore it was. I think Austen really benefits from updated adaptions because the satire in her novels often feels lost in cinematic costume dramas, especially when a big part of the audience is lacking the contemporary context. Which is why Clueless works so much better for me than any of the straightforward Emma film and tv versions. Of course, for a good update to work, you can't simply transfer events 1:1, and that has the great benefit of restoring the emotional stakes. ( I feel weird cutting for Jane Austen spoilers, both for the original and the adaption, but will do so just in case. ) Speaking of Lydia, fleshing out her character and adding her pov was one of the smartest choices the adaption made. And all actors involved are well cast. I'm looking forward to watching the rest.

This entry was originally posted at https://selenak.dreamwidth.org/1307402.html. Comment there or here, as you wish.

current mood:
calm
Saturday, September 15th, 2018
---
11:30 am - Political Madness, German Edition
In the past weeks, I've been majorly distracted from US and British political crazy by our own, homegrown German political crazy, and thus I want to share the dubious joy. Also because I just read yet another article (which was about a different subject altogether, to wit, Macron) managing to get just about everything wrong about the current govermental situation in Germany in terms of who is who, and I admit it can be confusing if you're not familiar with the backstory. Thus, some (utterly biased) backstory.

Currently governing conservative parties in Germany: these are the CDU and the CSU. ("Christian Democratic Union" and "Christian Social Union" respecticely. The names, btw, are much cause for ridicule these days, not least because the CSU isn''t displaying signs of behaving Christian, social or in a union and hasn't for some years.) Together, they're known as "die Union". Per an agreement hammered out many a decade ago in post war Germany, they've been in a coalition for said decades. The CDU is on the ballots in all German states except Bavaria. Notable chancellors from the CDU: Konrad Adenauer, Helmut Kohl and currently Angela Merkel.

CSU: is on the ballots in Bavaria and Bavaria only. With one exception, has held the absolute majority in Bavaria for decades without having to form a coalition with another party to govern said state, which is why CSU leaders tend to behave with some megalomania. (Yes, they are in a coalition with the CDU on a national level, but not, and this is important, with anyone on a state level. Remember, we are a Federal Republic.) The previous one exception to the CSU's experience of one party rule within Bavaria happened when Edmund Stoiber after many a year of absolute rule over party and state made the mistake of announcing he wanted to continue as governor for yet another legislative period. This caused a bunch of other CSU head honchos to realise that they'd soon be too old to have a shot at the top job themselves, and lead an inner party revolt against Stoiber, who never forgave or forgot. Since no one schemes like a dethroned conservative party leader, Stoiber promptly started his own campaign against his successor, Beckstein. This was helped by the fact that the open power struggles led to the irritated Bavarian electorate for the first time foregoing to give the CSU an absolute majority within Bavaria. So they had to govern the state in a coalition with the FDP for one term. They're still traumatized by this experience. (Which is normal for any other party in any of the other German states.) Anyway, this together with Stoiber's scheming led to Beckstein being dethroned in turn and replaced by Stoiber's protege Horst Seehofer. Who got the absolute majority back, which resulted in him becoming even more megalomaniac than the avarage CSU boss, which was a huge factor in the current 2018 situation, where the CSU is currently at a historic low of 35 % at the polls (and it's state election time in October).

But before I get back to the national level, some more Bavarian stuff. One thing particular to Seehofer was that he abused members of his own cabinet in the press, which was something even previous CSU leaders had never done. (Abused each other in private, and per carefully launched indiscretions, sure. But not in authorized interviews with the press.) And there was none he abused more than his future successor, as of this year, Markus Söder. Söder was secretary of finances in Seehofer's Bavarian cabinet and has been gunning for the top job since the last decade. He's alsao incredibly thick skinned (at least in public) not just about Seehofer's insults but being the butt joke of just about every Bavarian comedian's sketch during the last decade either. Bascially, he's Uriah Heep. Last year in autumn, his hour finally came, when Seehofer was weakened by his two years feud with Angela Merkel and the disastrous fallout of the national elections, and thus Söder dethroned Seehofer, who was more or less forced to resign as ruler of Bavaria (but not as head of the party, officially he's still that). Now both Söder and Seehofer tried to combat the emergence of our current bunch of Neonazis, the AFD, as a political party making it in the parliaments by adopting their right extremist rethoric and beating the anti refugee drum non stop. This, however, did not pay off at the polls within Bavaria. People prone to fall for the right wing extremist rethoric still vote for the AFD while the CSU lost all the moderate centrists that used to go to them by default. Hence them going from absolute majority into freefall, as of yesterday 35%, while the Greens, who managed to gain much of the moderate votes the CSU lost, are currently at 17% and rising at polls. Unless a miracle (from the CSU's pov happens), they WILL have to govern in a coaltion within Bavaria after the October election. In a belated attempt to woo back moderate voters, they've sworn never to govern with the AFD, but they also said they'd never govern with the (very pro immigrant) Greens, which leaves them with the FDP (Liberals in the European, not the US sense, used to be pro business moderates in the 70s and 80s, have moved a lot to the right in the last years, weren't donig badly in the last national election but then behaved like asses and have been losing voters since), which might or might not make it into parliament at all, the SDP (also in a freefall due to being in a coaltion with the Union on a national level, constantly arguing with the CSU on said national level, too), or the Freie Wähler ( right wing Bavarian party not campaigning on a national level at all, but also not doing very well within Bavaria since they lost a lot of the right wing protest voter types to the AFD). So it'll be either CSU + two or three other parties or CSU + their arch enemy in a state they regarded as their absolute fiefdom since decades, and they are in a (well deserved) panic. Bear this in mind as motivation for current events.


Now, back to the national level. The CDU/CSU coalition agreement on said national level had remained more or less solid throughout the Bonn republic, whether or not they are in government. There was one major crisis, when the then CSU boss and ruler of Bavaria, Franz Josef Strauß, had it out with Helmut Kohl (then CDU boss but not yet chancellor; this was when the conservatives were in opposition on a national level while the SDP was governing in a coalition with the FDP), because Strauß thought he'd make the better future Chancellor, and wanted to end die Union for about give minutes. After Kohl's retort that if the CSU did that, the CDU would campaign within Bavaria, Strauß gave in. (Because he knew this would have ended the CSU's absolute majority within Bavaria. Remember, this is the CSU's holy grail.) Bear in mind here that the CDU/CSU coalition had actually, in order to fulfill their coalition obligation, run campaigns with a CSU candidate for chancellor on a national level. Twice. Once with Strauß (was defeated, never got over it,especially when Kohl was the Union's candidate in the next elections and won), and later once with Edmund Stoiber (who lost as well and had to give way to Angela Merkel who won the next national campaign). So far, no CSU leader ever became Chancellor, but that hasn't stopped any of them thinking they could have done better than whoever was the CDU-originated Chancellor. Which brings us at last to the Seehofer versus Merkel struggle which has been a disaster on just about every level in the last three years. Before 2015, all Seehofer (still basking in having rewon the absolute majority for the CSU within Bavaria) had to argue with Merkel about were whether or not there should be taxes for non German users of the highways, which was a CSU pet subject, and no one paid much attention.And then came the so called "refugee crisis".

(Which, no, did NOT start with "Merkel opening the borders". The borders were already open and had been since the mid 1990s, by EU law, as anyone who travelled from and to Germany by land from any other country could attest. (No border controls within EU countries adhering to the Schengen Agreement.) "Merkel opened the borders" is a lazy journalistic shorthand originated by the AFD which I wish people would stop using. What she did back in 2015 was saying that Germany would accept more refugees in response to the (btw still continuing) horrible situation, as opposed to clinging to the Dublin Agreement (which said that refugees should stay in whichever EU country they first entered, which basically dumps most of the refugees on the Mediterranean countries with a shore.)

This led to Seehofer openly quarelling with Merkel (with whom, again, he was officially in a governing coalition) for two solid years and calling her every name in the book (not surprising coming from the guy who thinks nothing of ridiculing his own subordinates to the press), and then, for the 2017 national elections, performing a U-Turn and telling his CSU voters to vote for her. As absolutely everybody had predicted for two years as well, not many of them listened. Never one to seek fault in himself, Seehofer then proceeded to drag out negotiations for the next governing coalition for nearly half a year, continuing to beat the anti refugee drum and talking about little else in the expectation this would secure the absolute majority for the CSU within Bavaria again in the upcoming state elections. Instead, see above, the opposite happened and is still happening. Now, since Seehofer in between got dethroned by Söder as governor of Bavaria, see above, and is now serving instead as secretary of the interior in Merkel's cabinet (which he resigned from for four or five hours on public tv some months back, claiming "I cannot work with this woman!" and then to great regret for many a German resigned from his resignation), you'd think he'd see the benefit of changing course once in a while and doing something actually constructive, but no such luck. Not our Horst Seehofer, who like all his predecessors excells at vengeance. He knows he's living on borrowed time, having lost the governorship, since undoubtedly after the Bavarian elections in October Söder will blame him from the CSU's loss of the absolute majority, hoping Seehofer as a scapegoat for that impending disaster will prevent his own demise. Then he'll be replaced as the CSU's secretary of the interior as well. (The CSU has never been kind to anyone who can't deliver the absolute majority.) So basically 2018 is the ending of his political career, one way or the other. But he wants REVENGEEEE, and thus according to unkillable rumors he's declared he'll drag Söder and Merkel, the two people he hates most, with him.

Currently, he's doing this via supporting the most loathed head of the German FBI or MI5 in post war history and refusing to dismiss him. Backstory: modelled on the CIA for foreign shores, FBI for the interior spying, we have the BND as our out of Germany spy service and the Verfassungsschutz (literally: "Protection of the constitution") for acting within the country. The Verfassungsschutz' image has never been stellar; one of its most notorious failings happened in the 1990s. When our Supreme Court had to decide whether or not to forbid the NPD (which has now faded into oblivion because its clientele wandered off to the AFD), then the German Neonazi party, it turned out that so many top NPD officials were secretly double agents for the Verfassungsschutz that it couldn't be done. Now, this wasn't the current guy's fault (in the 1990s, he was still busy writing his doctoral thesis aboiut "the dangers of asylum seeker immigration", I kid you not); the Verfassungsschutz being notoriously arch conservative as well as not that able to do anything about right wing terrorists predates him. But he certainly fit right in. Also, to be fair, he was appointed by Seehofer's predecessor as secretary of the interior (as opposed to the FBI, the Verfassungsschutz doesn't resport to the justice department but to the one of the interior). But Seehofer was his boss during the last year, in which the following gems happened: Maaßen (that's the spy chief's name) first denied to an enquiry by parliament that he had an agent anywhere near Amri (the terrorist responsible for the attack at the Breidscheidplatz christmas market in Berlin), but now it turns out he did have an agent in Amri's mosque; the Verfassungsschutz also had an agent near the NSU terrorists (= right wing terrorists responsible for a murder (of people with a migrant background) series in the first decade of the millennia; the interminable trial against the surviving members finally ended last year), once even during an attack, who also didn't stop anything, and Maaßen has those files about the agent in question closed for the next 120 years, I kid you not; and then an AFD (remember, current bunch of Neonazis) deserter revealed Maaßen has repeatedly met and chatted with top level AFD party leaders, coaching them how to avoid being under investigation by the Verfassungsschutz.

Maaßen of course denied the later and at first also kept mum about the former, then modified this to "meeting of functionaries of all political parties represented in parliament is part of my job", never mind he already met the AFD guys before the last national election put them into parliament for the first time. While this made for a slow brewing angry stew of public opinion, things then suddenly changed gear into a bad headline every five hours last week. Two weeks ago, something happened which was reported on an international level, so you may have heard about it. An argument in Chemnitz, Saxony, escalated into one man getting knifed by two migrants. Never mind the irony that the victim was Cuban-German, tending to the left (and liking Facebook groups like "FUCK AFD"), i.e. the very kind of person the AFD bashes when they're alive; in death, he was immediately declared the pure German victim of immigration policy, with right extermists rallying thousands of people to march within hours. (In the following days, there were also counter demonstrations, but not until three days later did these equal the "Identitarian" demonstrations in numbers. One of the most disturbing things the entire event demonstrated was how well organized right wing extremists have become.) Cue people not just shouting slogans but several giving Hitler salutes (which is illegal in Germany, and punishable by months in prison), attacks on people with visible migrant background by members of the demonstrations, and one Jewish restaurant owner (and his restaurant) being beaten up. Cue most German party leaders and upper functionaries expressing outrage and shame immediately. (With the obvious exception of the AFD.)Horst Seehofer, though as secretary of the interior the fact the police had not managed to contain the demonstrations on the first tday fell squarely into his job ressort remained silent for days.

Now, last weekend, Maaßen saw it fit to given an interview to our equivalent of the Daily Mail in Britain, or of the National Enquirer in the US (or maybe Fox News in print form?), the BILD, in which he said that one of the videos showing how migrants were harrassed (as in, both verbally abused and people running towards/after them) was not "authentic", that there had been no proof of any attacks against foreigners in Chemnitz, that it was wrong to speak of people being "hounded" iin Chemnitz that day (which had been the expression Angela Merkel's spokesman, Seibert, had used in his statement for the Chancellor on the day in question), and that the whole thing was in his opinion a tactic to distract from the true outrage of Chemnitz, "the murder" of a German. (I'm putting "murder" in quotes not because the poor guy in question is less dead but because the police is actually charging the two men arrested with manslaughter.) This interview, it later turned out, had been cleared with Seehofer, and Maaßen had even added his "no proof the video is authentic" remark when authorizing the original quotes.

Given that the two men harrassed in the video in question had actually gone to the police to charge the people harrassing them, that this video was one of several showing such incidents, that there had been verbal reports about attacks from 126 (and rising) sources, you might say this caused an explosion all over Germany. AFD and its sympathizers cried with joy, of course (proof that any attack on a migrant was just fake news and part of the big conspiracy, according to the leader of one of the two major spy organizations in Germany). Since, however, renewed detailed investigation of the video Maaßen had singled out failed to produce any evidence it was anthing but the genuine article, Maaßen then revised his statement to claiming he hadn't meant the video was faked but that it had been put online with manipulative intent, that was had he'd meant with "not authentic"', and in any case it was up to the video producers to prove they weren't liars, not to him. And he'd denounced the use of the word "houndings" not to attack the chancellor but to support the governor of Saxony, who'd declared there'd been "no houndings in Chemnitz" (never mind that by now, the police report of that day which the governor in question must have had available before making that statement, and of course Maaßen must have read as well, has been leaked (on national tv, no less) and yes, it describes attacks and houndings with the except hour and minute).

By now, nearly all parties are demanding Maaßen's resignation as head of the Verfassungsschutz. (You can guess the obvious exceptions.) Since one of the parties demanding the resignation happenes to be the SPD, which is in government together with the CDU and the CSU, this means we have a stalement since Seehofer has declared Maaßen has his complete support. Supposedly, on Tuesday there will be news. A favored guess is that everyone will spend the weekend trying to make Maaßen resign in order to save everyone's faces. Fair chance, since nobody comes out o f this well, whatever happens. (Merkel should have fired Seehofer ages ago, even at the price of having to lead a minority government if the CSU had then withdrawn from the Union; Seehofer has been loathsome throughout; Maaßen ditto; and the SPD which only got dragged back into the so called "Groko" (for "Große Koalition" = "Big Coalition" = the two conservative parties and the Social Democrats, who used to be the big left wing party until the last five years when their free fall started in earnest, governing together) when the FDP after the last election refused to form a government with the Greens and the Union), can't do anything right in most voters' eyes right now, no matter whether they stick to their guns and leave the coaltion because of Maaßen or whether they stay with Maaßen or whether Maaßen is dismissed/resigns and they stay.

It's a bitter consolation price that whatever happens, Seehofer is finished on a personal level, and the CSU's absolute rule in Bavaria is over for at least the next four years.

This entry was originally posted at https://selenak.dreamwidth.org/1307317.html. Comment there or here, as you wish.

current mood:
indescribable
Wednesday, September 12th, 2018
---
10:59 am - Yuletidings and Trekian thoughts
Yuletide nominations are nearly upon us, and I think Star Trek: Discovery is still small enough to apply. (I tried to check as advised via the bookmark tools for AO3 and FFN, and according to the results, it is, but there's always the possibility I did it wrong.) If that's correct, I'll both ask for it as a fandom and offer to write in it. Last year, all people wanted and wrote were Burnham/Georgiou stories, which is understandable since all the canon available at the point of nomination was the pilot, but this year, I hope for as many characters and relationships as possible to be nominated. Speaking of all things Star Trek, my intermittent rereading and rewatching still continues, which among other things results in these musings:

1.) Not in a review, but in a comment to one, I found one striking observation: Crossover, the first DS9 Mirrorverse episode (and arguably the only one to go for disturbing in addition to "let the cast have a fun camp romp" (which is of course there in all Mirrorverse eps) ), "demonstrates that but for some changed circumstances, Kira could have been Dukat". And I went: huh. That is… actually true. In as much as the Intendant is very much female Dukat, down to his "but why don't you love me, I only want the best for you" thing. (Not to mention that they share a job.) Now why didn't I think of that when I wrote my Five things which never happened between Kira and Dukat?

2.) Also, the DS9 Mirrorverse eps taken together with the TOS, Enterprise and Discovery Mirrorverse eps indeed provide one with a model of history in which yesterday's oppressor becomes today's oppressed (i.e. TOS era fascist Terrans become DS9 era brave rebel Terrans, TOS era downtrodden brave rebels (i.e. all other species) become, at least in the case of Bajorans, Klingons and Cardassians, DS9 era's fascist Alliance), and the one thing constant is that power corrupts everyone and every struggle will result in a new tyranny, with only the tyrants changing. Which is indeed the opposite world view the main ST universe holds, but there are times…

3.) More on canon alternative universes: TNG's Yesterday's Enterprise remains eminently watchable, not least because every time I do, I focus on other aspects. This time around, it occurred to me that several of the Disco writers must have imprinted on that episode, not just for the obvious reason (a timeline in which the Klingons and the Federation are at war, a war which the Federation is losing), but for the conclusion. ( Which is spoilery for both the episode and Star Trek: Discovery's finale and the opposite of grimdark in what it says not just about human nature. )

4.) Sins of the Father and Reunion still puts what Disco's Klingon storyline to shame, though. These episodes give us our first (screen canon) look at Klingon politics and the Klingon empire from the inside, provide us with distinctively different from each other Klingon characters (K'empec, Khalest, Kurn and Duras in Sins of the Father, Duras, Gowron, K'eyhlar and K'empec in Reunion) in addition to the series' Klingon regular, Worf, and set up a major theme for said regular character's storyline throughout not one but two shows (Worf's idea of how to be a Klingon, which is modelled on an ideal he hasn't experienced himself, versus the realpolitics reality with its schemes and intrigues and compromises). Of course, the fact that the TNG actors don't have their entire faces covered in latex and can speak most of their lines in English helps, but still: Discovery only managed two memorable Klingon characters in an entire season (never mind an episode), with the rest undistinguishable bad guys.

This entry was originally posted at https://selenak.dreamwidth.org/1307064.html. Comment there or here, as you wish.
Tuesday, September 11th, 2018
---
4:59 pm - Better Call Saul 4.06
9:51 am - X-Men Rec
I'm always a bit torn about following WIPs; not only because sometimes they never finish, but because it's possible that after 14 or so chapters of excellent characterisation, a new-to-this-story-but-not-to-canon person enters the narrative, and that person is written in a way that does not correspond to your own idea of said person at all. Even if the character is just a minor supporting part in this particular story, it just irks. And thus I don't know whether I can continue to follow the tale in question. Which is a shame, because otherwise I really liked it so far.

Otoh, this morning I got the notification that another WIP I'd been following just got concluded with its final chapter, and I'm happy to report this one stays satisfying throughout. It's a Peter Maximoff centric post Apocalypse tale with great parts for younger and older X-Men, a great fleshing out of Peter's mother and sister, and a believable interweaving of a lot of complicated relationships. I really loved this one, from beginning to end.

Immediate Family (165190 words) by Glass_Shoe
Chapters: 20/20
Fandom: X-Men - All Media Types, X-Men (Movieverse), X-Men (Alternate Timeline Movies)
Rating: Teen And Up Audiences
Warnings: No Archive Warnings Apply
Characters: Peter Maximoff, Peter Maximoff's Mother (X-Men Movies), Erik Lehnsherr, Charles Xavier, Hank McCoy, Cyclops, Ororo Munroe, Scott Summers, Jean Grey, Kurt Wagner, Raven | Mystique, Quicksilver, Jubilee, Bobby Drake, Colossus, Original Characters
Additional Tags: Hurt/Comfort, Emotional Hurt/Comfort, Emotional Baggage, Language, minors in jeopardy, character death (not an X-man), Cancer, Grief/Mourning, Suicidal Thoughts, character with fluctuating weight, Disordered Eating, bad grammar, Run-On Sentences, medical knowledge by Wikipedia, brief mentions of consensual sex, mentions of torture, gratuitous eighties pop-culture references, Headcanon, Violence, Blood, Nothing too explicit, dadneto, sort of, brief mentions of underage consensual sex, nineteen eighty-four is not kind to Peter, Peter Maximoff and Erik Lehnsherr, sick Peter Maximoff, Sibling Bonding, Star Trek TOS References, Hank is a Trekkie, Blasphemy, kidnapping and attempted kidnapping, Angst, Hurt Peter Maximoff
Summary:

This is the story of how Peter Maximoff loses his mother, reconnects with his father, and finds something he didn't know he'd lost in the first place.



This entry was originally posted at https://selenak.dreamwidth.org/1306401.html. Comment there or here, as you wish.

current mood:
impressed
---