Thursday, January 2nd, 2020
---
10:18 pm - Collected Fanfiction Post
Monday, June 26th, 2017
---
7:58 am - Orphan Black 5.03
Sunday, June 25th, 2017
---
10:53 am - Munich Film Festival I
Aka what consumes my days these days, as every year around this time. Of course, every year doesn't have Bryan Cranston as one of the guests of honor, so there was this additional perk.:) (Here's an article about the award ceremony he was there for.)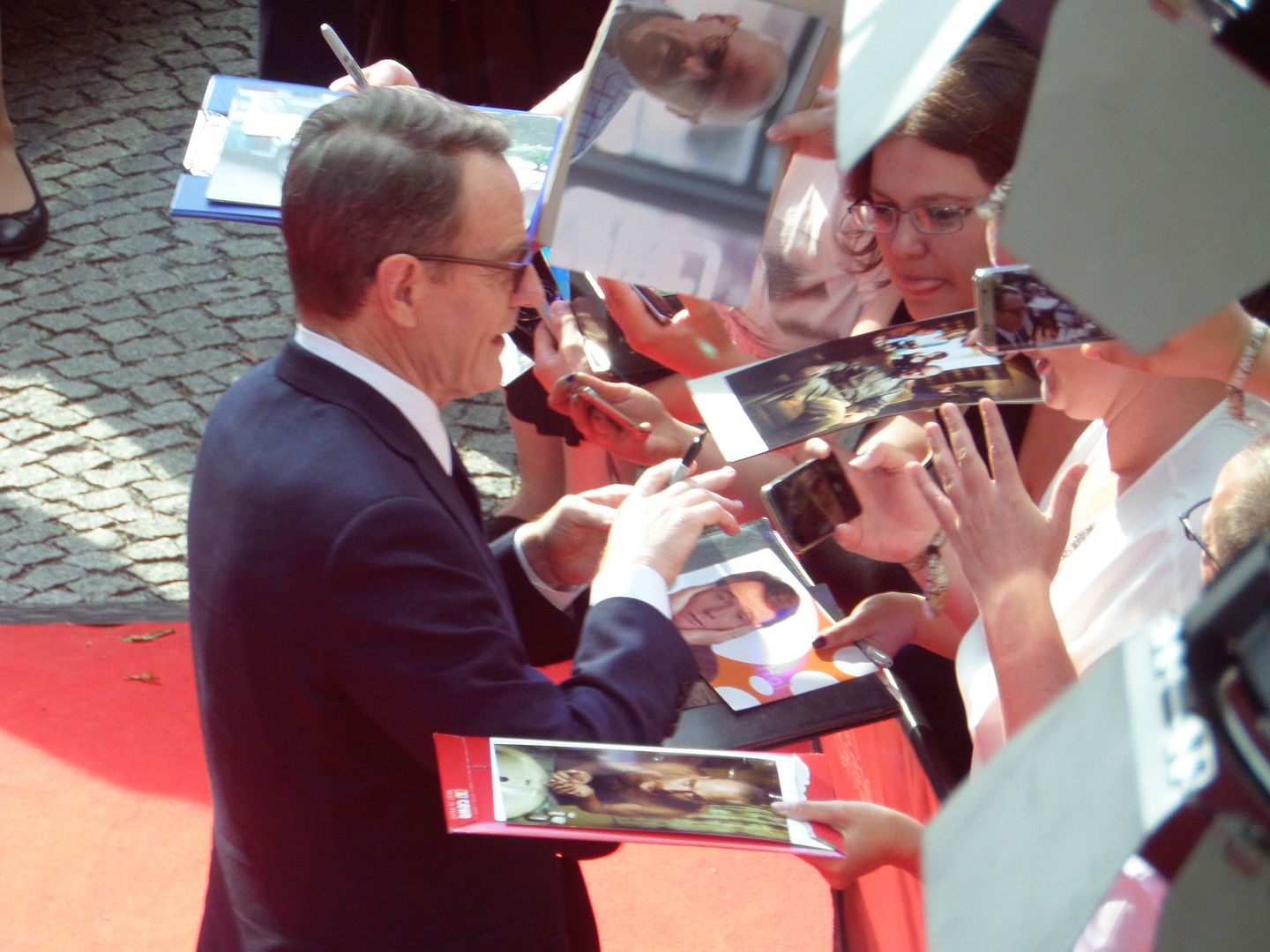 (Question: is the young man in one of the photos a fan is holding out to be signed truly Cranston some decades ago? Yikes, I wouldn't have recognized him.)


The director of Wakefield, one of his movies which are shown this year in honor of him (and yes, of course several Breaking Bad episodes are s hown as well), Robin Swicord, joked that both she and Cranston have German grandparents, and: "I don't know why they left, but you know, I think the fun is over. Might be a good idea to come back now, and I think you all know why. So thank you for welcoming political refugees." Former opera director Sir Peter Jonas outed himself as a Breaking Bad fan, complete with Heisenberg t-shirt, and held a speech praising the glories of narrative arc driven television. My only irritation with that one wasn't the series he singled out (other than BB) for being exceptionally good at this - The Sopranos, Oz, The West Wing and The Good Wife - , but the one he didn't mention. Babylon 5 still doesn't get as much credit in breaking ground with its narrative arc tellng format as it deserves.

Anyway, Bryan Cranston's own speech was lovely, mostly about the way being a storyteller is the best vocation (I agree), with both wry humor and sincerity. After the ceremony, Wakefield was shown, but due to an unshakeable real life obligation, I could only watch the first hour. Mind you, I had mixed feelings anyway. Because I could see why Cranston was cast (excelling as he does in playing dislikeable characters whose pettiness isn't air brushed away who are still interesting to watch) , and I enjoyed seeing Jennifer Garner again (playing his wife), and found the concept something of a suburban Hitchcock satire without crime (Howard Wakefield, lawyer, due some circumstances ends up disappearing into his own attic, watching his wife and family carry on without him with the bickering zest of a true voyeur while literally reduced to eating garbage) in a clever way, it still made my skin crawl. Because in the hour I watched, most of Howard Wakefield's voyeurism and assholery was directed against his wife, and while I knew the narrative was absolutely on the same page with me here, it still felt very disturbing to watch, and so it didn't exactly break my heart that I had to leave early. (Otoh I missed the Q & A with Cranston afterwards that way, alas.)

On to movies I could watch completely:

La Familia, a movie from Venezuela, directed by Gustavo Rondón Cordóva, currently stuck in Caracas and thus unable to make it to the festival, though he might make it to the Latin American directors general Q & A on Monday. This was a taut, intense story starting in the poorest quarters of Caracas. Our two main characters are Pedro, a twelve years old boy, and his father Andres, who works several jobs at once to make ends meet and thus hardly sees him. The introduction sequence has Pedro (Reggie Reyes) playing with some other children, and the playing has that edge of violence, those moments when shoving at each other suddenly threatens to become more, which has you sit up already. And sure enough, various scenes later, which establish Pedro's day with best friend Jonny and minus his father (who sleeps like a stone on those rare occasions when he's home), violence does explode, as a child threatens Pedro and Jonny with a gun and Pedro ends up seriously hurting the other child. His father Andres understands the implication at once because the child in question has revenge hungry people, and goes on a run with his estranged son, which is the plot line for the rest of the movie. "Going on a run", however, doesn't mean what it might were this a US film, because Andres still needs that money for Pedro and himself to survive, so he takes Pedro with him to his various jobs on the other ends of the city - they just don't go back to their own quarter, though Pedro urgently wants to because he's worried for Jonny, which makes for a big confllct with his father.

This is a movie which trusts its actors (Giovanni García plays Andres), because the dialogue is terse and rare, and you experience the shifting father and son relationship mostly through physical interaction, looks, gestures. Andres doesn' have a "killing is bad" conversation with his son, or a "how do you feel about what happened?" conversation - that's just not how they interact. And yet you can watch them becoming closer throughout the film, and at the end they truly understand each other, and even in their desperate situation have some hope for the future.


Clair Obscur, a Turkish-German-French-Polish coproduction (yes, these do exist) directed by Yesim Ustaouglu. With a female Turkish director and two female main characters, this movie explores, among other things, various ways of what it means to be a woman in Turkey. Our two heroines live completely different existences - Shendaz is a psychiatrist with a seemingly good relationship with her boyfriend, living in very well off circumstances at the Meditterranean coast, while Elmas is still a teenager imprisoned in a marriage to a much older man who revolts her, serving him and his mother in their small flat in a skyscraper. The two storylines eventually connect when due to various spoilery circumstances Shendaz becomes Elmas' therapist; by that time, the cracks in Shenaz' own life have been revealed, but refreshingly for therapists who tend to be either demonic or incompetent when presented in a fictional story, she's still able to truly help Elmas (especially once she figures out how young Elmas really is), and eventually finds away to escape the mess in her own life as well.

The director and several of the actors were there, though not the two leads. The actress who plays Elmas' mother-in-law said whhen she read the script, she thought that this was the best discussion of female sexuality in a Turkish movie. The sex scenes aren't just surprisingly frank in the case of Shenaz (with Elmas, who does not want to have sex, the camera stays on her agonized face, and later goes with her to the restroom because the aftermath is also very painful to her), but always make a character point. In the Q & A the director was asked whether the movie could be shown like this in Turkey, and she answered she had to cut around two minutes for the general release version (though she was allowed to show the full length in Turkish festivals), which since she knew this would happen in advance she could do without taking away the meaning from the scenes in question. Mostly the general release cuts avoided the full nudity of the complete version. Since the only Muslim women showing up in Western media tend to wear headscarfs and/or hijabs, in short, live Elmas' life, I suspect the fact that Shenaz is sucessful in her profession, has unmarried sex and enjoys wine when dining with her boyfriend (who does the cooking) would be as startling as the sex and the nudity if this movie gets a release in the US or Europe. At the same time, there's the awareness that Erdogan's government and party is doing its best to make Elmas, not Shenaz' life more common again in Turkey, and that subtext is also there if you're sitting in the audience watching this film.

Shenaz is played by Funda Eryigit, Elmas by Ecem Uzm, and they're both delivering terrific performances. In the Q & A, Ms. Ustaoglu mentioned that the incredible scene in which Shenaz gets Elmas to roleplay a dream she has (which finally allows Elmas to vocalize the pain in her life) needed only two takes, one for Elmas, one for Shenaz, that the actresses were that good. And having seen this movie, I believe it.

This entry was originally posted at http://selenak.dreamwidth.org/1238788.html. Comment there or here, as you wish.

current mood:
impressed
8:55 am - Doctor Who 10.11.
In which whoever did the trailer after the last episode should not do so again, since it already gave away the two key twists, but even so, this was a suspensful and good first part - may the second one live up to it.

( Read more... )

This entry was originally posted at http://selenak.dreamwidth.org/1238627.html. Comment there or here, as you wish.

current mood:
contemplative
Friday, June 23rd, 2017
---
1:10 pm - Links
Confessions of a Trekker: I really don't like ST IV - The Undiscovered Country. Which is, I've discovered, something of a minority opinion, for at least the vocal part of fandom holds this last cinematic outing of the TOS crew in a fond light. However, now and then the dissent becomes vocal, too, as in this rewatch post about the movie in question .


In more fun Trek news, check out this vid about everyone's favourite Cardassian tailor-plus-spy:

Dedicated Follower of Fashion

(Every now and then I wish the movies instead of going for the nth version of Wrath of Khan (with or without a villain called Khan) would tackle the Cardassians instead. And then I conclude the movies would probably mishandle the Cardassians as badly as they did the Romulans, and am glad the Cardassians so far have been reserved for tv.)

And lastly, a BSC fanfic rec:

Rippling Light: tender and heartbreaking take on the friendship of Felix Gaeta and Anastasia Dualla, two characters for whom the phrase "they deserved better" might have been invented.

This entry was originally posted at http://selenak.dreamwidth.org/1238315.html. Comment there or here, as you wish.

current mood:
exhausted
Thursday, June 22nd, 2017
---
1:42 pm - American Gods 1.08
Getting this done before the Munich Film Festival starts tomorrow (guests of honor: Bryan Cranston and Sofia Coppola, who brings her parents along!).

Now that the season is over, I'm still not sure whether Fuller's decision to stretch the main plot out and pace it the way he does is justified. I mean, we STILL haven't reached the House on the Rock yet, and I assumed that would happen in the third episode, as it's this story's Council of Elrond scene, so to speak. Just think of a LotR tv adaption where they've barely made out of the Shire by the time the season finishes. Otoh, all that Fuller & Co. have added does enrich the story and I wouldn't have wanted to miss it, so.

( And the moral of the story is... )

This entry was originally posted at http://selenak.dreamwidth.org/1238111.html. Comment there or here, as you wish.

current mood:
contemplative
Wednesday, June 21st, 2017
---
9:52 am - Orphan Black 5.02.
Tuesday, June 20th, 2017
---
4:22 pm - Better Call Saul 3.10
Monday, June 19th, 2017
---
3:14 pm - Doctor Who 10.10
In which who penned the very last Classic Who adventure broadcast on tv in the 80s makes a comeback, lets Bill geek out over Rosemary Sutcliffe, and quotes Tacitus on us.

( Read more... )

This entry was originally posted at http://selenak.dreamwidth.org/1237250.html. Comment there or here, as you wish.

current mood:
contemplative
Sunday, June 18th, 2017
---
3:22 pm - No, no, no!
Now, universe, this is just not fair. Stephen Furst has died, whoh played the wonderful Vir Cotto in my beloved Babylon 5.

If Londo's and G'Kars intertwining stories were for me the core of Babylon 5, Vir was its heart. He defied the cliché that a character who is good, sweet-natured and kind is per definition less interesting than the darker characters around him. Vir going from seeming comic relief to Londo's protesting conscience to the Centauri's best hope for a better future was moving, funny, dramatic - all of it. And Stephen Furst was up to whatever JMS wrote for him, with fantastic comic timing (the waving at Mr. Morden, for example) and heartrendering expressions (for example, the scene where he tries to apologize to G'Kar and G'Kar replies, well, here's the scene itself:



If you're in a scene with Andreas Katsulas and still hold your own, in a situation where you're a part of the people who occupied the other man's home planet (again) and you still make the audience feel for you as well as G'Kar, then you're an artist. Stephen Furst was.

I would have loved to include the scene between Vir and Londo after Cartagia's death as well, because for me that's not just one of Vir's best scenes but one of the show's most memorable, but alas, it doesn't seem to be on YouTube. Suffice to say: that scene says so much about who Vir is, about the Londo and Vir relationship, and also about B5 as a show, because most other shows would not have bothered with the aftermath of killing a villain so completely evil as Cartagia was.

Babylon 5 would not have been as good a show without Vir Cotto, and Vir Cotto might have been a very different character if he'd been played by anyone but Stephen Furst. I'm so grateful the two, Vir and Stephen Furst, found each other.

This entry was originally posted at http://selenak.dreamwidth.org/1237128.html. Comment there or here, as you wish.

current mood:
crushed
Saturday, June 17th, 2017
---
6:45 pm - Feud: Bette and Joan (review)
Having watched "American Crime: The People vs O.J. Simpson" some months ago, I moved on to this year's Ryan Murphy endeavour, "Feud: Bette and Joan", several episodes of which were scripted by Tim Minear, aka he who was largely responsible for most of Darla's episodes at Angel, for which I'll eternally appreciate him. Now I had actually read the book this particular miniseries draws much of its material from, "Bette and Joan: The Divine Feud", and among other things, it was interesting to see how Murphy and his team shaped the same raw material into a different type of story. The book is very gossipy, but in a way that doesn't favour either woman about the other, and does point out when there are several conflicting accounts. Narratively, though, it feels like a collection of Bette Davis and Joan Crawford anecdotes, without overall themes or specific conclusions. The miniseries, otoh, goes for the the Sunset Boulevard (btw: there's a great little reference to it during an escalating Davis/Crawford argument) approach of witty, biting and ultimately tragic Hollywood on Hollywood; if Bette Davis comes across as the more "likeable" of the two women, it's ultimately Joan Crawford whose tragedy it is, and who has the most clear cut narrative arc, from her decision to find a project for herself and Bette Davis in the series opener to her death in the finale.

( You mean all this time, we could have been friends? )

This entry was originally posted at http://selenak.dreamwidth.org/1236756.html. Comment there or here, as you wish.

current mood:
calm
12:52 pm - Helmut Kohl
I was born in 1969, which means I was in school and just making the transition from child to teenager when Helmut Kohl became chancellor. By the time he was voted out of office, he'd been Chancellor for sixteen years. (Hence one of his nicknames: The Eternal Chancellor.) He died yesterday, the tributes haven't stopped coming in, and as when Genscher and before him Helmut Schmidt died, I feel both a bit of history and a part of what formed my life when I was young has gone; I feel my own mortality.

Not because I was a fan. I never voted for him, not being a conservative. I disagreed with various of his policies. But when I look back, it occurs to me that growing up when I did, I internalized at least two of his core beliefs – that the European Union is our future, central to avoiding the horrors of the past (by which I don't just mean WWII but centuries of European warfare), and that the French-German relationship is central for this. It's no accident that probably the Kohl photograph included the most in the tributes both national and international was the one depicting him holding hands with Mitterand at Verdun. Of course, no post war German chancellor was likely to neglect France for obvious reasons, but Kohl, hailing from the Palatinate near the French border which during various French-German wars was always likely to be among the first regions to be devastated during those centuries of warfare, really made wooing the French personal. (And kept it up beyond office; till Mitterand's death, they met at least once a month.)

(My favourite Kohl and Mitterand joke goes somewhat like this: Kohl during a state visit in Speyer inflicts his favourite dish, stuffed belly of pork, on Mitterand , who first looks appalled. Then Kohl whispers something into his ear, and suddenly Mitterand eats with all signs of enthusiasm and finishes the meal. Later, Kohl's sidekicks want to know what he said, and Kohl reveals: "I said: If you don't eat up, Francois, you're getting the Saarland back.")

Among the many obituaries trying to sum up the man, from chronically underestimated hedgehog to everyone else's hare outmanoeuvring all rivals to lonely giant incapable of admitting mistakes or accepting criticism, I think this one works best for me, not uncritical (unsurprisingly, since it's by Der Spiegel, a magazine Kohl saw as the enemy, but also respectful of his achievements. (Whereas, say, the obituary in the Guardian felt downright mean spirited.) I'm still trying to figure out what I feel. Not sadness; both because there would have had to have been affection first, and because he was in a very bad physical state, and had been for years. It is more like what you feel when you see a giant glacier which had been melting for many years at last dissolving into water and earth, and only then you understand that the sight of the glacier, the awareness of it, had been part of the landscape that told you who you were.

This entry was originally posted at http://selenak.dreamwidth.org/1236671.html. Comment there or here, as you wish.

current mood:
indescribable
Friday, June 16th, 2017
---
2:39 pm - Tomorrow, in a year (Fanfiction)
Tomorrow, in a year (8124 words) by Selena
Chapters: 1/1
Fandom: Agent Carter (TV), Captain America (Movies), Iron Man (Movies)
Rating: Teen And Up Audiences
Warnings: No Archive Warnings Apply
Relationships: Peggy Carter & Howard Stark, Howard Stark & Everyone, Abraham Erskine & Howard Stark, Steve Rogers & Howard Stark
Characters: Howard Stark, Peggy Carter, Abraham Erskine, Werner Heisenberg, Carl Friedrich von Weizsäcker, Konrad Zuse, Fritz Haber
Additional Tags: For Science!, Dubious Ethics, Ethics, Nuclear Weapons, Chemical Weapons, Computers, Morality, Historical
Summary:

Inventions, the consequences they have and the choices you make: Three encounters Howard Stark has with German scientists he does and doesn't work with.



This was my

ssrconfidential story for this year. The reason why I assumed it was patently obvious who authored it was that, well, who else among this year's participants would write about Howard having debates with a bunch of German scientists?

The prompt had asked for Howard Stark recruiting, via Operation Paperclip, the top German cybernetics expert in order to meddle in artificial life. This to me sounded like it was going for a tale with a Nazi robot on the rampage, which yours truly would not have been keen to write (there were other prompts by my recipient I'd have then gone for), but at the same time, the phrasing left me just wriggle room enough to come up with something more interesting and challenging to me, on the subject of Howard and German scientists. Given that the MCU has Howard Stark as a participant in the Manhattan project, and that I'm a fan of Michael Frayn's play Copenhagen about Niels Bohr and Werner Heisenberg, I already knew there'd be a Howard & German nuclear physicists encounter in my story.

Canonically, Howard worked with Abraham Erskine who in the MCU hails from Augsburg (like Bertolt Brecht) and thus most definitely qualifies as a German scientist, so the first Erskine-Stark encounter was a given opener for the story. Now the MCU Wikipedia has them meeting in 1934 at a conference in Switzerland, which sounds a bit unlikely given the birth year the same entry provides for Howard, but Switzerland in 1934 was also where Fritz Haber died, which made it a must for me. Because if there is someone ideal to embody the two sides of science and to kick start the question as to what the responsibilities of a scientist are, it's the inventor of fertilizers and weaponized chlorine gas. Also, given Erskine's age it made sense to make him a colleague and friend of Fritz Haber's whose WWI experience gave him the original idea for what became the supersoldier serum.
(BTW, having recently had Fritz Haber on my mind for this story made me go "so…does Haber not exist in the DCU?" when a certain character in the new Wonder Woman was introduced.)

But I still needed a computer genius which was what the prompt had asked for, after all. Did we even have those in that era, I wondered, researched a bit, and found out about Konrad Zuse, fascinating computer inventor with a sideline in painting, two of whose war time created computers even were in the city where I lived, Munich. Zuse's memoirs were also available for reading and contributed such details as his fondness for Fritz Lang's movie Metropolis, language difficulties and other personal details which made it into the story. I was tempted to call the Zuse section "Zuse and Stark", after "Einstein and Eddington", that, or: "Science Bros: The First Generation", but you might as well have called it Iron Man 0.1, because it's also a riff on Tony's origin story as well as a contrast – one of my betas, asked to guess the prompt for the story, thought it must have been "Why Howard Stark didn't become Iron Man", and while I hadn't thought of it like that at first, yes, that's also one of the themes. Father and son are very similar, but there are also differences, both in circumstance and reaction to certain situations.

Lastly: I apologize for giving Carl Friedrich von Weizsäcker my "Hydra makes no sense" rant. But Hydra makes no sense.

This entry was originally posted at http://selenak.dreamwidth.org/1236335.html. Comment there or here, as you wish.

current mood:
creative
Thursday, June 15th, 2017
---
4:19 pm - Wonder Woman (Film Review)
Wonder Woman was a very enjoyable comic book movie. I haven't read any of the WW comics or any others featuring her, so I had no other versions to compare this Diana to. What immediately struck me, though, was the difference to the other recent DC movies. Because it seems this particular director and scriptwriter (writers?) finally managed to chuck the moroseness that passes for depth out of the window and instead came up with, oh wonder, a heroine who enjoys what and who she is and is an unabashed, heart-on-her-sleeve do-gooder. Also, she's kind. Not many people in the superhero business are, especially after the 80s. She has a learning arc, and I thought the balance between naivete, learning about the darker side of the 'verse and keeping core beliefs regardless was well struck.

The trailers had me a bit worried because of the WWI setting, this war being not one prone to good versus bad stories, and I was concerned that they simply made it I instead of II to avoid the inevitable Captain America comparisons and completely ignore the bloody mess the "Great War" was. Turns out the script actually made WWI story and themes relevant. Mind you, it needed still a great deal of handwavium. ( DC geography and history is not of our world, clearly. )

The reason why I didn't mind all this is that Diana's big realisation moment could not have happened in WWII and was very WWI specific; to wit: ( It gets spoilery again. )

Other things: liked the cast and the ensemble, really liked that Diana being a warrior and Diana being kind and compassionate was never presented as paradoxical or in conflict with each other but as one driving the other, wished Snyder's lasting legacy, the slow mo fighting, would finally stop but wasn't bothered enough in this instance to mind, and was grateful that for all the "fish out of water" humor, Diana wasn't presented as childlike or somehow unaware of sexuality just because she hadn't been in contact with a man before.

In conclusion: a deserved hit.

P.S. Now I remember I did encounter Diana in the comics before, in a flashback. In Mike Carey's story about Lyta Hall post Sandman, The Furies, it's revealed Lyta is the daughter of Diana and Steve Trevor. (It's a single panel, a memory that haunts Lyta of her early childhood and her mother.) I suppose that makes Diana the grandmother of one of the Endless?

This entry was originally posted at http://selenak.dreamwidth.org/1236094.html. Comment there or here, as you wish.

current mood:
peaceful
Wednesday, June 14th, 2017
---
11:58 am - Orphan Black 5.01.
Hm, I felt a complete emotional disconnect. Not because the episode was bad: it did what a season opener is supposed to, resolved some cliffhangers, showed what more or less the entire ensemble was doing, set up new stuff for the season, Tatiana Maslany is as good as ever in her various roles - but for some reason, I'm not feeling emotionally involved at all. Maybe it will come back to me? On to an actual review:

( Read more... )

This entry was originally posted at http://selenak.dreamwidth.org/1235857.html. Comment there or here, as you wish.

current mood:
contemplative
Tuesday, June 13th, 2017
---
12:09 pm - Better Call Saul 3.09.
In which Saul hasn't just entered the building but has taken over the office, so to speak, and it's heartbreaking. (In a great show kind of way.)

( Read more... )

This entry was originally posted at http://selenak.dreamwidth.org/1235642.html. Comment there or here, as you wish.

current mood:
contemplative
Monday, June 12th, 2017
---
4:27 pm - Movie Meme
From

vash11. Soon, the Munich Film Festival will be upon me, so I figured I'd better get this out first.


1.What's the most depressing movie you've ever watched? Fassbinder's version of Effi Briest. I get what he was aiming at, but it lacks all the wit and vitality which Fontane's dialogues have, Hanna Schygulla is awful (and awfully static) in the title role, and you're not sad about Effi's ending, you're glad the bloody movie is finally over. Except I had to watch it several times, due to writing a paper about the various movie versions of Effi Briest.


2. What's the most disturbing movie you've ever watched? Wellllll. Given I attended a seminar on propaganda movies, which included some of the vilest the Nazis have produced, the bar there is high, or rather, low. Mind you, some of those movies today would be hilariously ineffective, like Hitlerjunge Quex. (Except for one particular scene, in which Bad Communist Dad forces his Hitler Admiring Rebelling Teenage Son to sing the Internationale; he literally beats the kid into it, and since he's played by Heinrich George, until this point (1933) one of the most Weimar Republic famous actors of "proletarian" roles like Franz Biberkopf in Berlin Alexanderplatz, and one of the best German actors of his day, the casting is doubly effective. But other than that scene, the movie today would be laughed at even without knowledge as to who the Nazis were. Meanwhile, Jud Süß by Veit Harlan didn't get its infamous reputation for nothing. (Sinister trivia: young Michelangelo Antonioni wrote ecstatic praise of it after it was shown in Venice.) Harlan was a master of melodrama, the cast consisted of the top of the day (Heinrich George was in that one, too, playing the lecherous Duke), and it's every bit as evil in antisemitic propaganda as its reputation suggests. (Supposedly it was shown to concentration camp guards in preparation, but it's evil even if that's not true.) If it could be shown outside of teaching circumstances, no doubt it would still work on at least a part of the viewers.

However, it feels a bit cheating to name the most infamous German movie of all time, or maybe trivializing the Holocaust for a meme. So here are two alternate newer movie suggestions:

Hero, directed by Zhang Yimou. Breathtaking aesthetics. Vile central message: the suffering of the individual is no longer relevant when compared to the welfare of the community, which can only be achieved by a strong ruler, even if that ruler acts with incredible brutality to achieve his aims. No.

The Hateful Eight, directed by Quentin Tarantino. I am not easily squicked and have discovered I'm quite splatter tolerant if there is something in the tv show/movie which holds my attention otherwise; I mean, I've watched and enjoyed other Tarantino movies, and the entire series of Spartacus. But The Hateful Eight still disturbed me beyond my personal endurance level; for the reasons why, see here.

3. An actor/actress you've seen in more than 8 movies? Katharine Hepburn. (Watched, among others: Bringing Up Baby, Holiday, The Philadelphia Story, Woman of the Year, Adam's Rib, The African Queen, Summertime, Guess Who's Coming to Dinner, The Lion in Winter.)

4. A film you could watch on repeat for the rest of your life? I suspect I'd get to hate whichever movie would be played endlessly for me - that's how they torture people, isn't it? No matter how much I liked the movie before. But here's one which I've watched countless times, which I suppose is what the question is getting at: The Kid, directed by Charlie Chaplin.

5. What's the very first film you remember watching?: Leaving aside movies I must have watche on tv before that, it must have been Winnetou, because Karl May's novel was one of the earliest book's I've read, and I remember being quite upset about the changes as a child.

6. A film you wish you hadn't watched? Eh, there are several that bored me, alienated me etc. But you know: I went to the above mentioned class on propaganda movies without any one forcing me into it, knowing full well that I'd have to watch a great many vile things, about which I wanted to learn.

Otoh, you know: The 1993 version of The Three Musketeers (the one with Tim Curry as Richelieu) was the first movie I ever walked out on and to this day have not finished. I loathed what I had watched far too much. So maybe that?

7. A film you wish had a sequel? None comes to mind. My reaction when I hear about sequels where none were intended to movies I loved generally is one of "must you? Please don't".

8. Which book would you like to see adapted into a film? Her Majesty's Will by David Blixt. It practically begs to be filmed.

9. The most aesthetically pleasing movie you've ever watched? Well, you know, David Lean didn't get his awards and reputation for nothing. I'm going with the movie that made the desert breathtakingly beautiful and gave us Peter O'Toole and Omar Sharif in their youthful glory: Lawrence of Arabia.

10. What's your favourite movie director? Billy Wilder.

11.Your favourite movie genre? Don't have one. Every time I say I like them all except Genre X, I know a movie or two in Genre X will come to sway me. It really depends on the movies.

12. A movie that holds a special place in your heart? The Lion in Winter, for oh so many reasons, and among others because it introduced me to the Plantagenets in general and Eleanor of Aquitaine in particular when I was one impressionable teenager interested in history.

13. Which is your favourite non-English language movie? Wir Wunderkinder, directed by Kurt Hoffmann.

14. Your favourite comedy film? Some Like It Hot by Billy Wilder

15. A music video you would love to see developed into a film? Say what now?

16. A film everyone loves but you hate? There is no "everyone", but I seem to recall that the 1993 Musketeers which I walked out on was fairly popular?

17. A film you love but (almost) everyone else hates? Again, there is no "everyone", but I do unironically love the three Star Wars prequels, so...

18. Which cinematic universe would you like to live in? Steven Spielberg's. There's almost always a happy end guaranteed, no matter how unlikely, the occasional wondrous alien visit tends to be benign (with an exception yes, but I haven't watched the exception), justice prevails and families are reconciled. And a certain individual would never, ever have become President of the US in a Spielbergian universe.

19. What's your favourite biopic? Discounting Lawrence of Arabia, because, well, would it count? Anyway, it's Frida, directed by Julie Taymor, about Frida Kahlo.

20. Mainstream movies or indie movies? Both. Indies were a later developed taste that came with being able to attend the Munich Film Festival, but I never saw that as mutually exclusive to loving blockbusters.

21. Old movies or contemporary movies? Both.

22. A film with an amazing soundtrack? Kill Bill; Tarantino is usually good with sound tracks, but that's probably my favourite of his.

This entry was originally posted at http://selenak.dreamwidth.org/1235285.html. Comment there or here, as you wish.

current mood:
calm
10:46 am - American Gods 1.07
Which combines in an ingenious way one of the book's "Coming to America" stories with another character's tv tale and a much-later-in-the-book reveal.

( Read more... )

This entry was originally posted at http://selenak.dreamwidth.org/1235028.html. Comment there or here, as you wish.

current mood:
impressed
Sunday, June 11th, 2017
---
6:35 am - Doctor Who 1.09
I wasn't exactly overflowing with confidence when I saw this was a Mark Gattis episode, because to repeat for the nth time, I think he's a better actor than writer. However, there is the occasional exception to this rule, and I'm happy to report that this particular episode after the last two duds was enjoyable to me again.

( Everybody likes the Thing )

This entry was originally posted at http://selenak.dreamwidth.org/1234890.html. Comment there or here, as you wish.

current mood:
contemplative
Friday, June 9th, 2017
---
3:33 pm - oh, yeah
Back from busy week on the road, and well, was Thursday a day (and night) of joy in our prequel-to-a-YA-Dystopia world or what? Like a great many people, including May, I thought that Labour would get slaughtered when May decided to get herself a coronation an election. I certainly did not guess that it would relieve David Cameron of his "PM who managed to score the worst own goal" title. After last year's Brexit desaster, my faith in the British part of voting humanity is getting somewhat restored. Meanwhile, James Comey came to bury Trump, not to praise him, and did so with relish. I had wif fi in my hotelroom and watched the live steam to great joy and occasional ire.

And yes, I'm aware of all the drawbacks: the Republican party still isn't afraid enough to lose votes to stop kowtowing to Trump, and without them, impeachment is impossible, plus the British edition of the Orange Menace, aka Boris Johnson, might end up becoming PM after all. But hey. It was a good Thursday and Friday morning.

Also, the

ssrconfidential ficathon has gone live. Check out more than thirty new Agent Carter stories here!

The story I received was: Playing the Cards, Jason Wilkes - and Jason Wilkes/Howard Stark - post season 2 of Agent Carter, and I enjoyed it a lot. Now I look forward to exploring all the other stories, and won't ask anyone to guess mine because it's terribly obvious again.

This entry was originally posted at http://selenak.dreamwidth.org/1234587.html. Comment there or here, as you wish.

current mood:
grateful
---